Boat Inspections
Veteran detection canines Ismay and Rosebud are trained to find both quagga and zebra mussels. Their keen noses add another dimension to the inspection process; they can sniff for mussels in nooks and crannies that are often difficult for their human partners to check thoroughly. Our dogs may be especially helpful for special events such as a fishing derby or regatta, or when an inspection station is short-staffed or temporary. Our flexibility often allows us to fill in at short notice.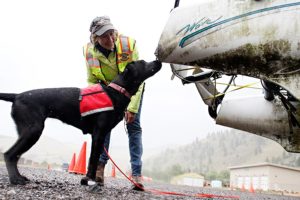 Having a dog at an inspection station can add interest and generate enthusiasm among the staff and public.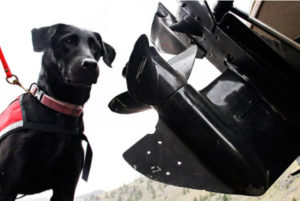 Educational Programs
Education and outreach are extremely important aspects of the fight against invasive mussels and this pair excels at communicating with the public. In addition to routine boat inspection, the dogs have participated in many demonstrations for a variety of audiences and thoroughly enjoy presenting their message! These fast-paced, entertaining presentations are powerful tools for educating groups of all ages. Rosebud and Ismay would love to show off their skills.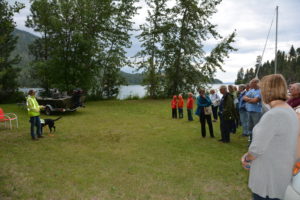 Please contact us to schedule a demonstration.
Shoreline Searches
Our dogs are trained to independently search areas such as shorelines and docks for invasive zebra or quagga mussels. In these "hasty searches," the dogs are able to cover large areas quickly, working on, or off-lead to help managers identify areas for closer inspection.
Rosebud and Ismay have drive and stamina to spare making these searches feasible. Whenever a mussel problem is suspected such as in a rapid response, the sisters can help narrow down areas for divers and other resources to focus their search. It's important to remember that the dogs are trained to detect invasive mussel scent – any life stage from adult mussels to veligers!
Canine Search and Rescue Training
Contact us for water search training seminars or personalized instruction.