Our goal at Montana Black Dog Services, is to use highly trained detection dogs like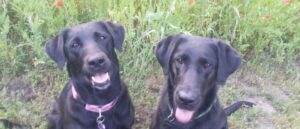 Rosebud and Ismay, to help prevent the spread of aquatic invasive zebra and quagga mussels through education and early detection. We are available for customized, flexible contracts. Our dogs may be especially helpful for special events such as a fishing derby or regatta, or when an inspection station is short-staffed.  
Montana Black Dog Services features an owner/handler/trainer who is deployed with the dogs.  Deb's experience as a trainer and handler allows her to quickly interpret the dogs' behaviors, adapt, and improvise as needed. Montana Black Dog Services can typically provide two experienced canines which adds flexibility to scheduling and extends our work period.
Watercraft Inspection:
Veteran detection canines Ismay and Rosebud are trained to find both quagga and zebra mussels.  Their keen noses add another dimension to the inspection process; they can sniff for mussels in nooks and crannies that are often difficult for their human partners to check thoroughly.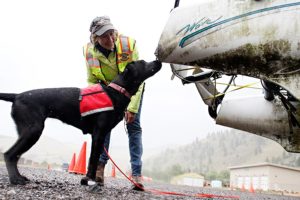 Trained dogs are capable of detecting all life stages of zebra and quagga mussels, including microscopic veligers (or the larval stage) which humans cannot easily detect. Having a dog at an inspection station also adds interest and generates enthusiasm among the staff and public.  An added bonus is the education provided from the interest the dogs generate.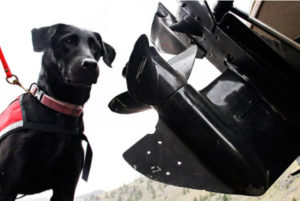 Educational Programs
Education and outreach are extremely important aspects of the fight against invasive mussels and this canine pair excels at communicating with the public.  In addition to routine boat inspection, the dogs have participated in many demonstrations for a variety of audiences and thoroughly enjoy presenting their message!  These fast-paced, entertaining presentations are powerful tools for educating groups of all ages. Rosebud and Ismay love to show off their skills.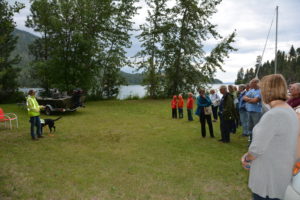 Contact us to schedule a demonstration.
Shoreline Searches
Our dogs are trained to independently search areas such as shorelines marinas, and docks for invasive zebra and quagga mussels.  In these "hasty searches," the dogs are able to cover large areas quickly, working on, or off-lead to help managers identify areas for closer inspection or for additional sampling (such as eDNA sampling).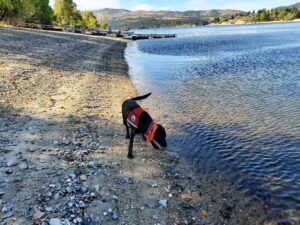 In the case of a rapid response, the Labrador sisters can help narrow down areas for divers and other resources to focus their search.  It's important to remember that the dogs are trained to detect invasive mussel scent – any life stage from adult mussels to veligers!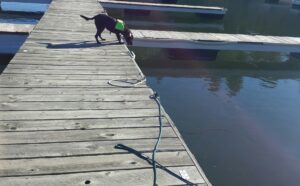 Training Help
We can also assist with training needs for dogs and handlers.  Contact us for more information.