Inspections: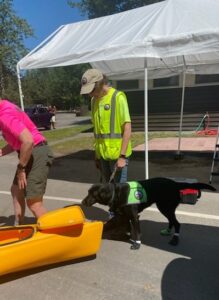 We enjoyed assisting Glacier National Park with watercraft inspections at Apgar during the busy July 4th weekend.
More inspections are planned soon in several different locations in western Montana.  
Education and Outreach:
The year 2020 was a rough year for in-person learning with most events canceled.  Dog demonstrations were no exceptions, but finally the Labrador sisters are back in action.
In June, we joined forces with the Clearwater Resources Council and Montana Fish, Wildlife, and Parks to help with an Aquatic Invasive Species program held at Placid Lake State Park.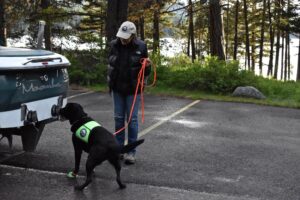 Earlier in the year we participated in the Blackfoot Challenge's Annual Swan Release.  We teamed up with a representative from Missoula County to help teach students from smaller schools throughout the area about invasive species.  The dogs had as much fun as the students!
And in May we joined in the annual Flathead Mussel Walk, held at Wayfarers State Park to help educate students about zebra mussels and other invasive species.  Rosebud and Ismay helped bring AIS awareness to the students and demonstrated how effective mussel-sniffing dogs can be!
New Trainee
Enthusiastic "Dora" the young black lab (aka "Dora the Explorer"), is now in training and has some great traits that should serve her well as an AIS detection dog.  She is making excellent progress and loves to work!  She will be joining the team soon.

Follow our progress!  Check back for news.