Invasive Mussels – The Problem

Aquatic invasive mussels now represent a huge threat to our waters, and once zebra and quagga mussels become established, eradication can be almost impossible.  Prevention is key! 
Invasive mussels impact power plants, irrigation equipment, municipal water supplies and much more.  In addition to infrastructure damage, they can also adversely impact recreation and do major damage to aquatic ecosystems. A recent study conducted by the Flathead Lake Biological Station indicates that if these mussels were to become established in Montana, the cost to our economy would be more than 230 million dollars annually.  Property values could decline by about an estimated half billion dollars.
Our Mission
Montana Black Dog Services provides high-quality, affordable, and customized canine detection services for quagga and zebra mussels.  Owner, handler-trainer Deb Tirmenstein brings years of experience in canine detection including terrestrial and aquatic invasive species and search and rescue applications specializing in canine water search.  We are passionate about our work!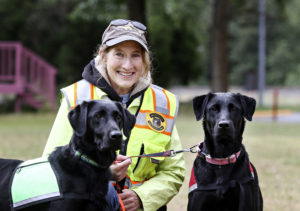 Montana Black Dog Services was formed in 2017 and we have been involved in AIS prevention ever since. During this time we've inspected boats at many locations, including stations located in Glacier National Park, near Browning with the Blackfeet Nation and at several locations for the Confederated Salish and Kootenai Tribes.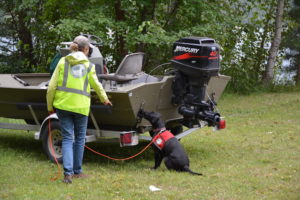 In addition to boat inspections, sisters Rosebud and Ismay are veteran presenters at educational programs and demonstrations for all age groups.  They've participated in The Flathead Mussel Walk, Blackfoot Challenge's Swan Release, the Flathead Biological Station's Open House, a campfire talk recently hosted by the Clearwater Resources Council and Montana Fish Wildlife and Parks, as well as numerous programs at schools, day camps, county functions and more!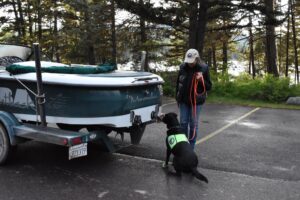 Qualifications
Deb has years of experience in canine detection as a teacher, trainer, and handler, working with both terrestrial and aquatic invasive species, and in search and rescue.  She has taught many classes in canine water search, both shoreline and boat work from Alaska to the Midwest.
Although Deb has worked certified canines in many search and rescue profiles including trailing, area search, avalanche, cadaver search and more, a main interest has always been on canine water search.  During the past 25 years in search and rescue, Deb and her canine partners have worked more than a hundred water searches throughout the West and has developed novel methods of canine water search.