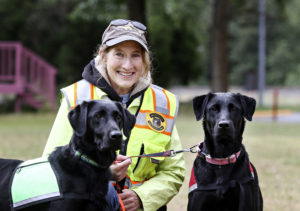 Detector dogs Rosebud (on left) and Ismay (on right) with their handler Deb Tirmenstein, are trained to find aquatic invasive zebra and quagga mussels.  They are veteran Montana watercraft inspectors with excellent search skills and winning personalities!
Experience – Rosebud & Ismay
Worked at several check stations as boat inspectors, including stations in Glacier National Park, the Blackfeet Nation, and CSKT.
Performed demonstrations and educational programs at schools, libraries, and open houses (such as the Flathead Mussel Walk, Flathead Lake Biological Station, county groups and various educational groups).
Perfected their off-lead hasty search and passive alerts skills in prior initial training as cadaver dogs.
Searched shorelines at Tiber Reservoir and at Canyon Ferry in Montana for Montana FWP.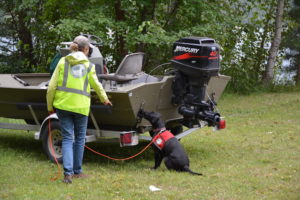 Handler Qualifications
Deb has years of experience in canine detection as a teacher, trainer, and handler, working with both terrestrial and aquatic invasive species, and in search and rescue.  She has taught many classes in canine water search, both shoreline and boat work from Alaska to the Midwest.
Although Deb has worked certified canines in many search and rescue profiles including trailing, area search, avalanche, cadaver search and more, a main focus has always been on canine water search.  During the past 25 years in search and rescue, Deb and her canine partners have worked several hundred water searches from the Athabasca River to Lake Mead.  She has developed novel methods of canine water search.
Experience
Presented programs on canine water search to national audiences
Taught courses to canines and their handlers
Assisted law enforcement and civilian handlers with certification including shoreline testing
Searches and methods have been featured in publications such as The Cadaver Dog Handbook and Police Dog Tactics
Authored book chapters, papers and articles on canine water search
Trained and handled dogs in aquatic and terrestrial invasive species detection and in search and rescue
Resume available upon request