Welcome to Montana Black Dog Services, the home of aquatic invasive mussel-sniffing canines Ismay, pictured at the left, and Rosebud on the right.  These talented and friendly black Labrador sisters are trained to detect both quagga and zebra mussels.
Aquatic invasive mussels have become a huge threat to Montana waters in recent years.  Once these mussels become established, eradication is almost impossible.  These aquatic invaders are responsible for millions of dollars of damage annually.  Invasive zebra and quagga mussels can impact power plants, irrigation equipment, municipal water supplies and much more. In addition to infrastructure damage, they can adversely affect recreation and can do major damage to aquatic ecosystems.
Right now, prevention is the key!  Highly trained mussel detection dogs like Rosebud and Ismay can combine their olfactory talents with hard-working human inspectors, to help intercept contaminated boats before it is too late.
Our dogs are proficient at on or off-lead searches of docks and shorelines.  This type of hasty search can help identify areas that may need further scrutiny or testing.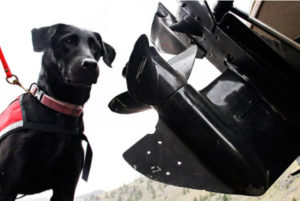 Educating the public is also critical.  The Labrador sisters are veteran presenters at programs for all age groups.
Contact us now for a demonstration!